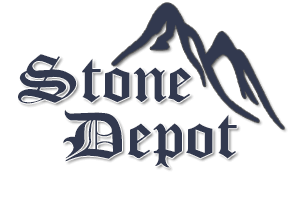 Techo Bloc Pavers & Hardscape
Techo Bloc paver and wall products add a layer of elegance to any driveway, walkway, or garden oasis.  Stone Depot has been a Techo Bloc distributor for several years, and have recently installed a new display from their product line. They're constantly updating their products, so be sure to check back here regularly.  Our sales representatives are ready with any questions you may have regarding product availability or installation.  Please contact us here or stop in for more information.
About Techo Bloc
The artisans at Techo Bloc literally canvas the world to find stones to replicate and develop for their product line.  The sculptors chisel and carve the stones to create beautiful contours and shadows which will eventually become your hardscape patio. Techo Bloc stones are engineered with fine granite aggregates, creating a durable, consistent stone every time.  This combination of artistry and technology makes Techo Bloc one of the highest quality hardscaping products on the market, which is why we're a supplier.
One of the biggest enemies of hardscaping is temperature change.  Combine that with moisture and the results can be devastating.  This is why the quality control department has engineered the Techo Bloc products to the highest standards, with minimum moisture penetration and freeze/thaw data which is literally record-breaking.  Combine that with the consistent quality of each stone and they can offer a lifetime warranty on their product.
Take a look at some of the photos below.  If you're looking for something in particular and don't see it here, you can always visit us at the corner of 113 and 313 in Hilltown.