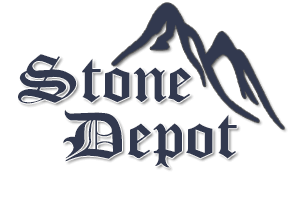 Natural wall stone is the perfect solution for the homeowner who wants to keep an organic look and feel but still wants the ability to create borders and retaining walls for gardens.  Natural wall stone can be used with other hardscaping components to create a more finished look, or it can be used in dry stack walls.
Benefits of Natural Wall Stone
While not as consistent and uniform as manufactured stone products, natural wall stone has its advantages as well.  As a natural product, it blends well with its surroundings.  The variation in each stone creates a one-of-a-kind appearance in the finished wall.  Diversity of width and height add to the character of the landscape as you build with natural stone. With a variety of natural stone products available at the Stone Depot, the creative possibilities for your outdoor getaway are virtually limitless.  Building a dry stack wall or other retaining wall using natural stone can be a bit time consuming, but the results are well worth the effort.
The Stone Depot sells full pallet, half pallet and in some styles, quarter pallets of our wall stone products.   If you're interested in the look of natural wall stone and have questions about purchasing, selecting, or installation, please contact us or simply stop in and we can help you.